Rebalancing Changes Lead to Record-Setting Usage and Membership Growth in Toronto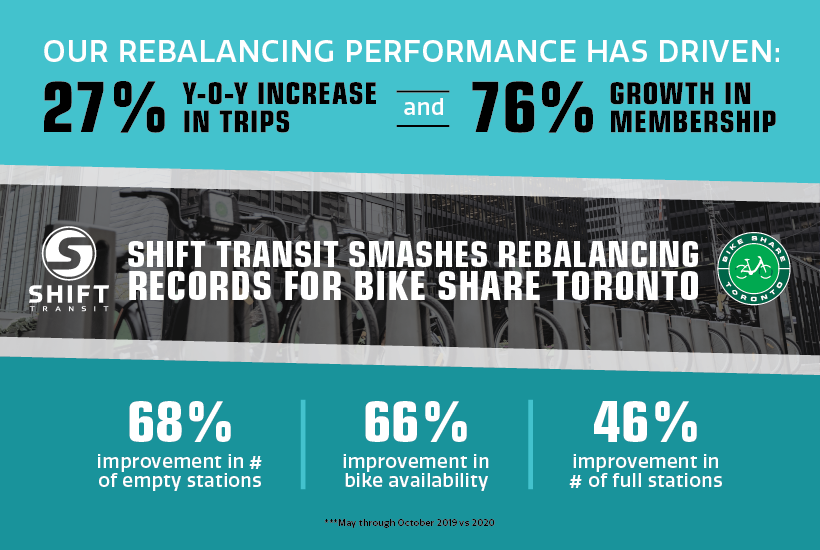 If you talk with any bikeshare operator, rebalancing is typically the number one operational challenge they face on a day-to-day basis. For dock-based bikesharing systems, "rebalancing" refers to the dynamic distribution of bikes from stations full (or close to capacity) of bikes to those that are empty (or close to empty). The goal of active rebalancing is to achieve a state of supply/demand equilibrium, where all stations have an equal number of docks and bikes. With the right rebalancing strategy and resources in place, a mobility operator can help drive significant increases in system usage, revenue, and customer satisfaction by coming as close as possible to ensuring a customer is within a five-minute walk of a bike or left an open dock at a station closest to their destination.
In Toronto, Shift Transit manages the day-to-day operations of the Bike Share Toronto program, featuring 6,850 bikes and 625 stations. Bike Share Toronto is the 3rd largest bikesharing service in North America and exceeded 2.4M trips in 2019, making it one of the most heavily utilized systems on the continent. 
As part of our duties, Shift Transit is responsible for the rebalancing of the system. At the beginning of the year, we anticipated 2020 would be our busiest year yet (spurred on by a system expansion of 160 stations and 1,850 new bikes) and made a number of changes to further enhance and optimize our rebalancing efforts to ensure we were going to meet increased customer demand head-on, including:
Vehicle + Staffing Optimization
Our rebalancing vans are the backbone of our rebalancing efforts. Shift Transit field agents transport bikes from full stations to empty stations on a 24/7/365 schedule, preemptively and dynamically responding to bike/station imbalances. In early 2020, Shift Transit increased the carrying capacity of our rebalancing vehicles to be able to multiply the efficiency of each pick-up/drop-off stop, leading us to acquire 12 vehicles that were specifically outfitted for transporting bikeshare bikes. The upgraded vehicles were specifically designed to maximize space so the team could move more bikes. And to further support our rebalancing efforts, we built out a robust 24/7 staffing plan to ensure we capitalized on maximizing productivity and efficiency during the overnight shifts while the city of Toronto (sort of) sleeps.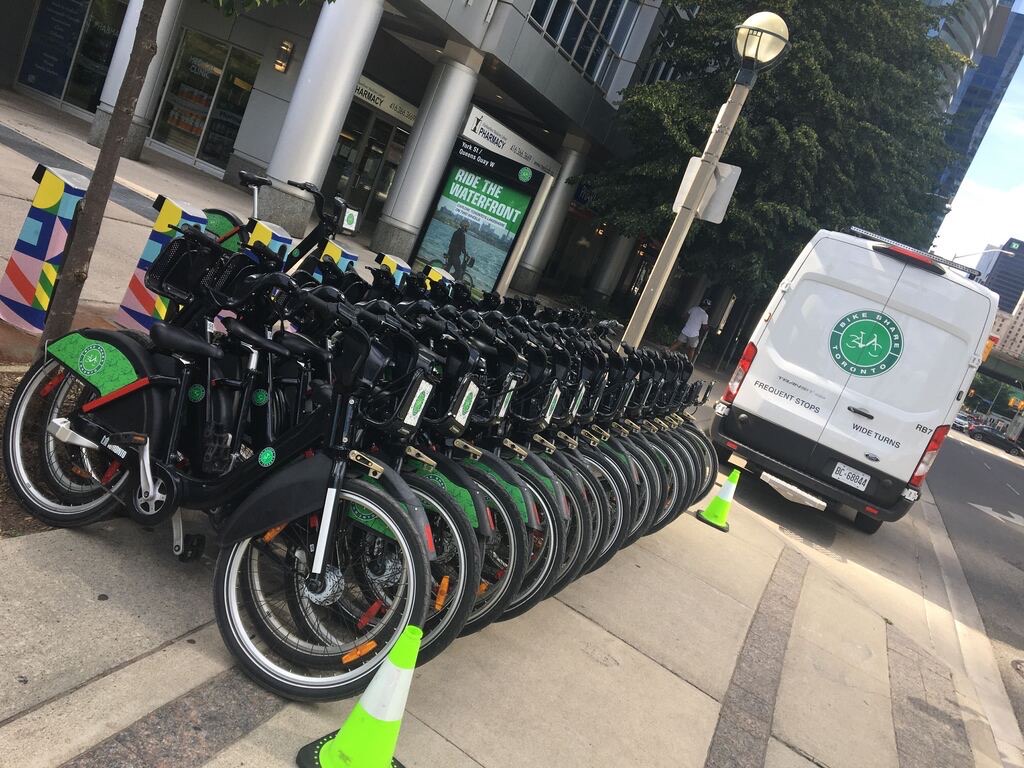 Implementing New AI Rebalancing Software
Earlier this year, we began to use a new rebalancing software tool to help us further analyze bike and station supply and demand scenarios based on the time of day and day of week. This AI solution leans significantly on historical usage patterns (Bike Share Toronto is almost ten years old), while monitoring the daily changes in ridership patterns. With the new software, we programmed top performing stations as priority for rebalancing actions to ensure that hotspots within our Toronto system footprint always have available bikes and docking points. The result was that these priority stations saw a 68% improvement in bike and dock availability Y-o-Y, along with a 23% increase in usage (August-October '19 vs '20).
Quickly pivoting our strategy during COVID-19
COVID-19 drastically changed how people use the Bike Share Toronto system. With social distancing measures in place, our ridership began (and continues to) lean heavily towards recreational trips, rather than commuter trips. We also saw a significant increase in the number of casual users, as Toronto residents who rarely or never used the Bike Share Toronto system sought out bikes for a safe, healthy way to get around town. Through weekly analysis of casual usage trends, we operationalized these new insights by deploying pop-up valet stations in residential neighborhoods, staffed by our community ambassador teams. These stations allowed members to end their trip without having to worry about finding a docking point, thereby enhancing their experience.
As a result of all of these changes, we have seen significant Y-o-Y gains in our most important rebalancing KPIs, including:
68% improvement in # of empty stations
66% improvement in bike availability
46% improvement in # of full stations
*Data collected between May 1 – October 31 2019  vs May 1 – October 31 2020
Best of all, these increases in our rebalancing performance have directly led to sizeable usage and customer gains for the system, including a 27% Y-o-Y increase in trips and a 76% growth in membership (casual and annual members). 
In sum, even after 3+ years at the helm of Bike Share Toronto, rebalancing remains one of the most challenging – and rewarding – operational puzzles that we encounter on a daily basis. However, armed with new and improved vehicles, an AI software tool specifically built for bikeshare operations, and a decisive pivot to meeting our new customers where they now are, we have markedly improved our rebalancing activities, which have directly contributed to record-breaking usage gains for the Bike Share Toronto system.
Bravo to our entire Shift Transit Toronto team for these accomplishments!!!!
For more information on Bike Share Toronto, please visit: https://shifttransit.net/case_studies/bike-share-toronto/