A booming year for mobility with a connected future
2022 was a year of renewed connection, as people, communities and cities across borders moulded to a newly shaped normal. A normal that has people seeking connection and face-to-face interaction, whether in professional or personal settings and shared mobility is playing a vital role. Whether it's bike sharing, scooter sharing, car sharing or para/microtransit, many forms of transportation are helping deliver this connection piece as an increasing number of people are discovering, adopting and using new forms of shared mobility.
At Shift Transit, we continued to work closely with partners and Cities, resulting in record-breaking growth and innovation. The impact that shared mobility has on communities and cities really highlights how important our work is in providing reliable transportation services.
The increased usage of shared mobility had our team busier than ever this past year. From managing a fully electric bike share fleet, through system expansions, to operating the 4th largest bike share system in North America, many of our markets saw big advancements in:
ridership

membership

system expansion 

accessibility
Doubling down on this growth are future plans to continue propelling micromobility as an integral part of everyday life. Let's have a closer look at how Shift Transit, hand-in-hand with our partners, delivered more shared mobility options as city transportation landscapes continue to innovate and evolve. 
Micromobility
📍 Toronto, Canada: Bike Share Toronto
Ending the year with over 1 MILLION more rides than in 2021, Bike Share Toronto set a new record of 4.6 MILLION trips. Things really accelerated in Toronto in 2022, with expansion, e-bikes and system electrification to welcoming more riders than ever before to bike share! Bike Share Toronto closed the year with incredible results:
4.6M trips – 29% YOY increase
178% YOY increase in e-bike trips
30% YOY growth in users of the system
29% YOY growth in memberships sold
Innovating the customer experience was top of mind to make it even easier and seamless for new and returning users to access bikes. In August 2022, Bike Share launched a new all-in-one mobile website platform. The Bikesharetoronto.com website on mobile now offers all types of pass purchases, bike unlocks and member dashboard access for a levelled up customer experience. Within weeks of launching, we saw a 20% increase in new user transactions from the mobile website portal, with the support of a robust marketing and communications campaign. 
Bike Share Toronto continues to grow in popularity and importance and in September 2022, the Toronto Parking Authority (TPA) announced the program's Four Year Growth Plan. Shift Transit is excited to partner with the TPA as it aims to make Bike Share Toronto the best bikesharing system in the world. Since TPA and Shift partnered together, the system footprint has grown upwards of 225%; growing from 200 stations and 2,000 pedal bikes in April 2017 to 655 stations, 6,675 pedal bikes and 525 pedal assist e-bikes at the close of 2022.
2023 promises to be nothing short of exciting! Be sure to follow along.
📍 Detroit, Michigan: MoGo Detroit Bike Share
The MoGo Detroit Bike Share program had a gainful year, celebrating 5 years of service with new stations added and a booming membership base in an ever-changing 'Motor City'. A total of 6 stations were installed, growing the system to 78 stations across six Metro Detroit cities, while also introducing the program's first e-stations. Shift Transit led the installation of 2 hardwired e-stations located at the new Michigan Central Station, and 1 solar-powered e-station in the Milwaukee Junction neighborhood as part of continuing efforts to electrify the entire system. Additionally, 3 bike share stations were installed in Belle Isle Park, the largest City-owned "island" park in the US, making it the first time bike share is offered as a way to explore the beautiful, big state park that spans 982-acres in the heart of Detroit. In the first month of servicing the island, the 3 stations saw immediate ridership.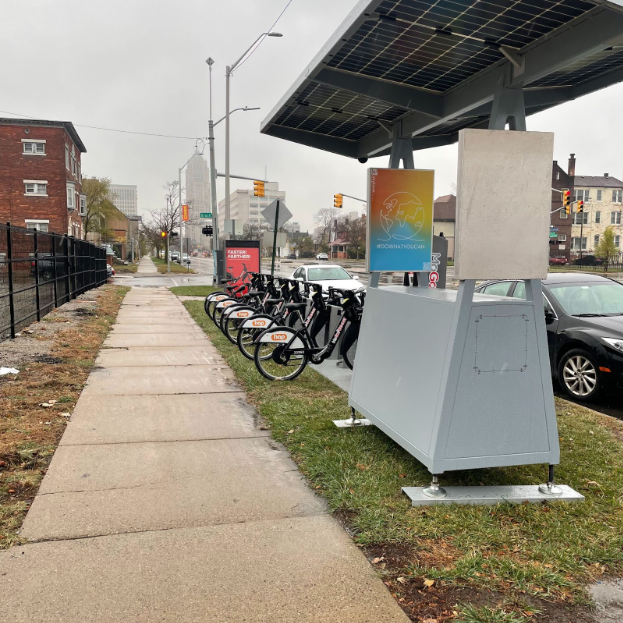 Pictured: Skyhook solar e-charging station
As the system footprint grew, so did MoGo's membership base. Spurred by the partnership with Wayne State that launched in 2021, over 1000 memberships were sold, ranking the stations around the campus within the top ten utilized in 2022. Overall, member ridership was up 45% year-over-year. This usage is a true testament to the necessity and success of the partnership, giving students, faculty and staff an accessible and affordable mobility option in Detroit.
Before the year came to a close, a new partnership was established with DivDat, broadening the cash payment option with DivDat's widely accessible, easy, and real-time payment processing platform, continuing to drive equitable access to bike share in Detroit.
📍 Chattanooga, Tennessee: Bike Chattanooga
Shift Transit has been proudly working with the City of Chattanooga Division of Transportation since 2017 to run the day-to-day operations and management of the Bike Chattanooga program. This past year, Bike Chattanooga celebrated a decade of service, kicking off with a series of events, supported by the Mayor, to mark the 10 year anniversary.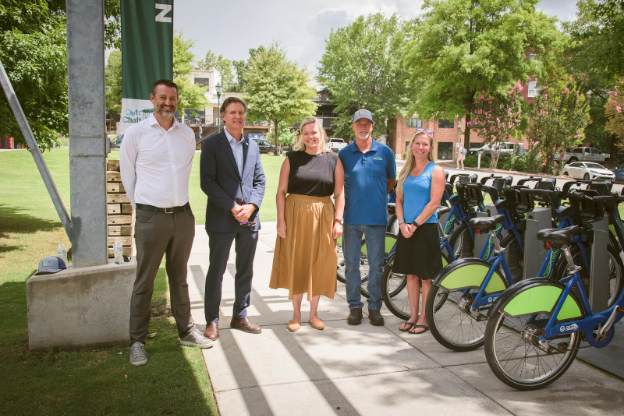 While the City support for bike sharing in Chattanooga remains strong, 2022 also brought further connection with the community, welcoming many more members to the system. Annual memberships sold was up 14% YOY, while the annual member ridership increased at the same fierce rate. More and more Chattanoogans are discovering the benefits of biking and accessing bike share as a way to move around the city. 
Chattanooga was an early-adopter of e-bikes back in 2018. E-bikes continue to be popular among members and all riders, with e-bike ridership accounting for 35% of all trips taken in 2022, while only representing 14% of the bike fleet. With e-bikes being this popular, we are excited to introduce more in 2023 – Chattanooga is ready for some serious pedal power!
Paratransit
Before finishing off the year, Shift prepared to transition operations and launch our second market with partner Via, one of the largest microtransit/paratransit companies in North America. Shift has successfully operated the Green Bay, Wisconsin paratransit service since March 2020, now adding Hampton Roads, Virginia, a program consisting of 85+ vehicles. 
Shift Transit oversees all mechanical and maintenance of vehicle operations, including preventive maintenance programs, OEM recalls, road calls, and general repairs. The majority of the fleet consists of paratransit WAV (wheelchair-accessible vehicle) e-450 buses outfitted with lifts which we also service and maintain. As an essential service for the community, the goal is to maintain a vehicle availability rate of over 90% at all times.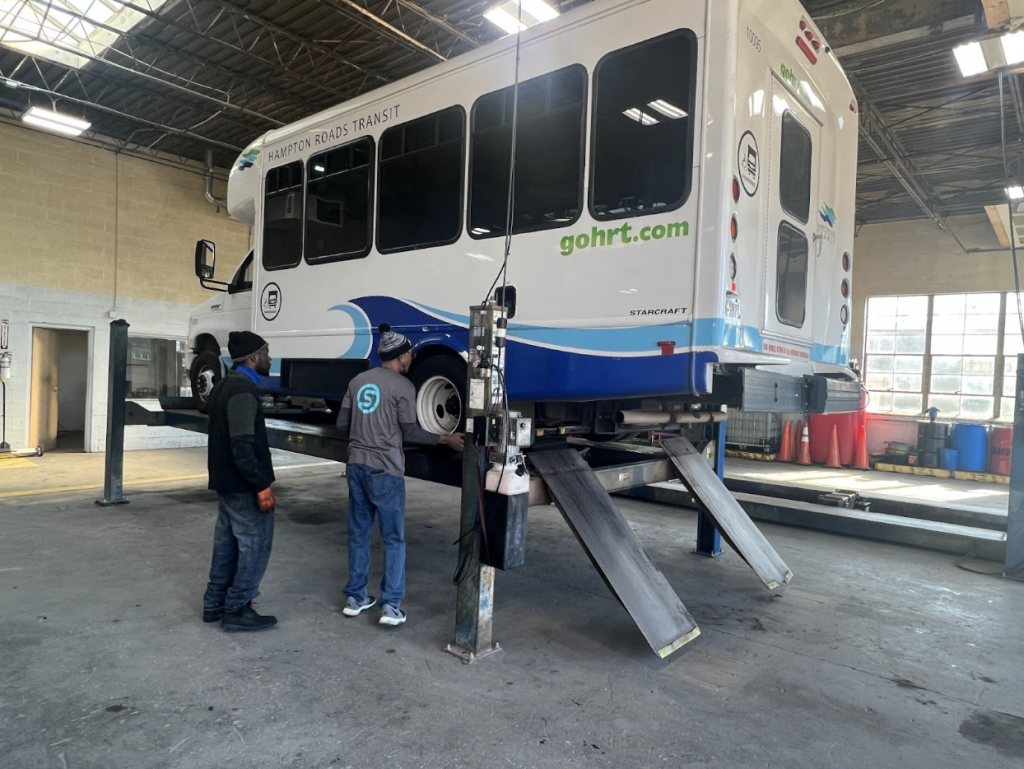 As we celebrate the wins of 2022, we also reflect on lessons learned and opportunities presented to shape a thriving 2023. Let's ride!