Record-Breaking Growth Amidst Significant Change and Challenges in Mobility
2020 was completely unprecedented and ever-changing, especially for those of us in the mobility industry. At Shift Transit, we had to make significant changes to our operational approach in each of our business units overnight, ensuring that all of our team members were outfitted with personal protective equipment, hand sanitizer, and cleaning supplies to do their jobs safely. For our customers, we dramatically increased the cadence of cleanings for every bike, station, scooter, and van that we oversee, thoroughly cleaning every nook and cranny of each piece of equipment we care for to prevent customers from contracting or spreading COVID-19. Along with our clients, we held our breath as we worried and wondered about the impact the coronavirus would have on shared mobility, and our communities, as a whole.
But in the face of a global pandemic, Shift Transit's business units flourished. In our bikesharing markets, our clients and the cities they serve deemed bikesharing an essential service, continuing to provide residents of Toronto, Detroit, Chattanooga, and Tucson with a safe, reliable transportation option. We adjusted and refined our marketing strategies and tactics to meet our users where they were – in parks and safe streets rather than previously bustling commercial corridors or downtown epicenters. Overall, total usage in all of our bikesharing markets was up a combined 17%, led by a 62% increase in weekend trips and 33% increase in casual user (non-annual member) trips. Most significantly, both our Toronto and Chattanooga markets shattered previous annual trip records, achievements we look forward to accelerating in 2021.
We were also fortunate enough to partner with Spin in Chicago, overseeing half of their 3,333-scooter units during the 2nd iteration of the city's pilot program. And we launched a completely new business line in Green Bay, Wisconsin, partnering with Via, one of the largest microtransit/paratransit companies in North America.
As we look towards the future, it's clear how essential and impactful our work is to the clients and customers we serve. Safe and reliable bikes, scooters, and vans were a lifeline to city residents across the country. Many of the lessons and best practices we've learned and adopted will continue beyond the pandemic. Like all of you, we look forward to getting back to some semblance of normal in 2021 and building on the momentum we've created this past year.
For a deeper-dive into some of our 2020 highlights, see below:
Bike Share Toronto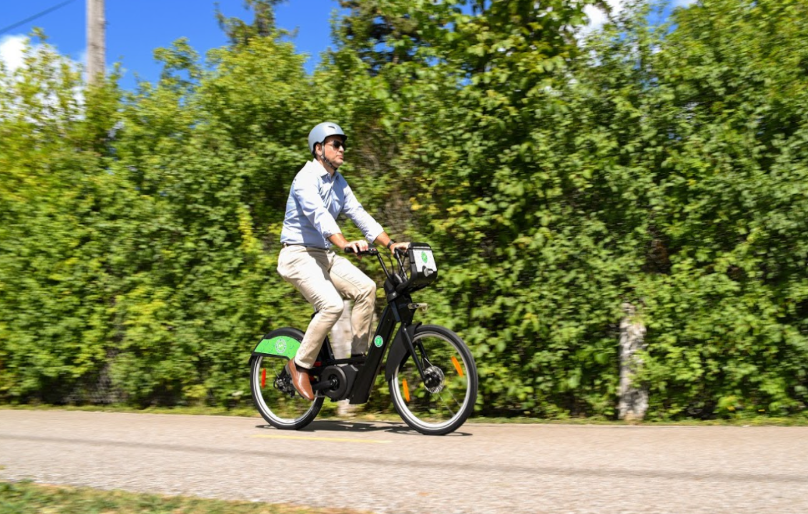 The Bike Share Toronto (BST) system broke a number of usage records in 2020, including eclipsing 2.9 million trips for the first time in the service's 10-year history. This increase was driven by a 35% Y-o-Y increase in casual users (single-trip, 24-hour, and 72-hour users), with more than 180k first-time casual users leading the way to our record-setting achievements. Another significant catalyst for these usage increases was the launch of our partnership with Qucit, an AI rebalancing software tool that further guided our decision-making in where and how we placed bikes in real-time. Rounding things out was the latest expansion of the system, with an additional 1,850 bikes, 160 stations, and 3,600+ docking points for users to choose from. This latest expansion, which brings the total system footprint to 6,850 bikes and 625 stations, also makes BST the 3rd largest bikesharing program in North America.
Additionally, with most of us now working from home, we also saw a significant shift in how and when our users traversed the city on BST bikes. While we experienced a slight increase in the number of weekday trips, a significant driver of our system's growth came on the weekend – a 65% Y-o-Y increase, specifically. Cooped up at home, many Toronto residents sought a safe, reliable way to get some exercise or run errands that they normally would have done by other transportation means.
Finally, after an extensive RFP process, Toronto Parking Authority (TPA) awarded Shift a 5-year contract extension in early 2020. We are thrilled to be able to continue our partnership with TPA and look forward to continuing to build on the success we've created with them for years to come.
Bike Chattanooga
Shift Transit has overseen the day-to-day operations of the Bike Chattanooga program since 2017. Since transitioning operations of the program from the previous vendor, we have introduced e-bikes into the fleet, forged partnerships with companies like REI to increase the service's reach and exposure, and expanded the program to its current footprint of 42 stations and 400 bikes. And in the face of the COVID-19 pandemic, we oversaw the most successful year in the program's history. Usage grew 20% Y-o-Y, with weekend usage up exponentially – 97% growth Y-o-Y, accounting for almost 50% of total system riders, as Chattanoogans took advantage of all the terrific trails and outdoor spaces the city has to offer. Like BST, we saw an influx of new users, with 80% of all ride passes purchased by new customers.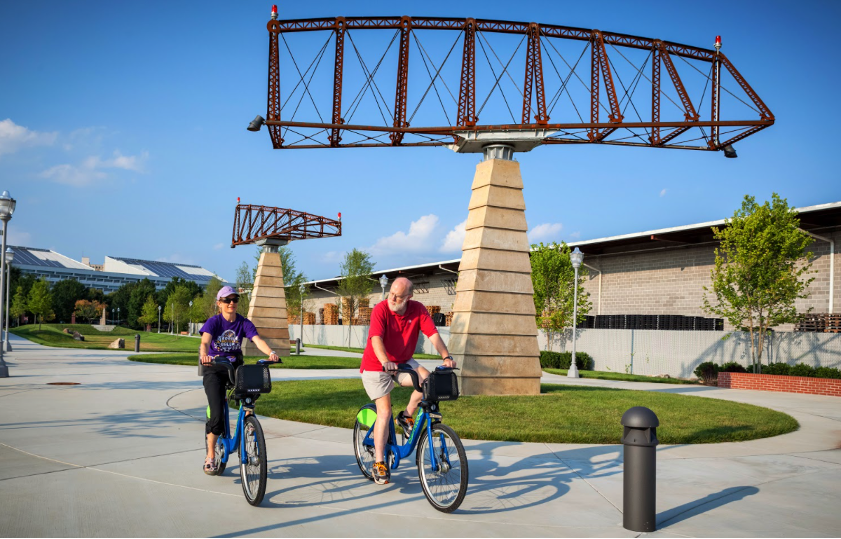 After almost ten years of existence, we are extremely excited about the program's newfound momentum and look forward to bringing even more new bikeshare users into the fold this year.
MoGo Detroit
In June 2020, the MoGo bikeshare program expanded for the first time since it launched in 2017, increasing its footprint by 70% and into 5 neighboring jurisdictions, including Ferndale, Royal Oak, Oak Park, Berkley, and Huntington Woods. The expansion added 31 stations and 140 bikes to the fleet and also included a new pay-as-you-go pass ($1 to start your trip and 25 cents per minute thereafter), which proved to be extremely popular, accounting for more than 50% of all trip purchases in 2020.
Like bikeshare users in Toronto and Chattanooga, MoGo members rode farther and longer than in any previous year of operation, with average trip distance and duration up 70% Y-o-Y.
To cap things off, Shift Transit was awarded a 3-year contract to continue overseeing the day-to-day operations of the MoGo program. We are grateful for the trust and support of our terrific partners and look forward to continuing to scale new heights with them in the years to come.
Spin (Chicago)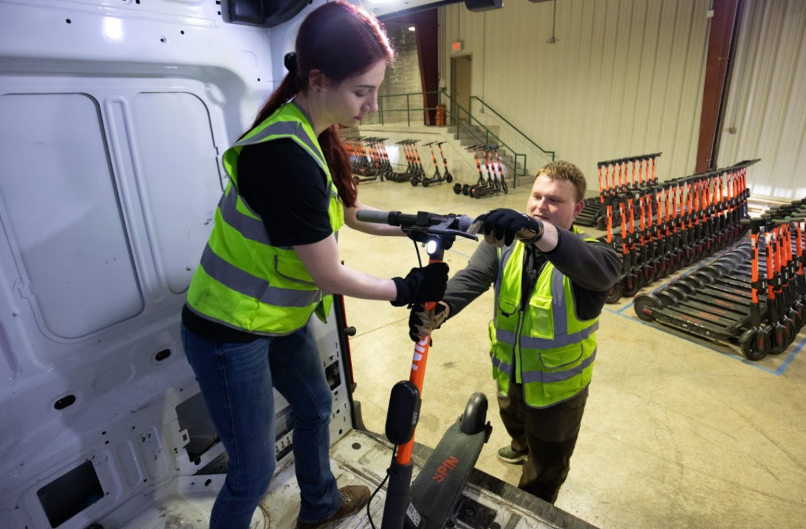 Due to our previous experience working with Spin and our familiarity working in the City of Chicago – our HQ is based in Chicago and we formerly managed car2go's 400 vehicle carsharing fleet there – we were asked to oversee half of Spin's 3,333 scooter unit fleet as part of the 2nd round of the City's of Chicago's scooter pilot that kicked off in August. Spin tasked us with managing the Equity Priority Area of the Service Zone, a 90 sq. mile territory covering the South and West sides of the city. The City created this Priority Area to ensure residents on the South and West sides had fair and equal access to using scooters deployed throughout the City. Shift was responsible for ensuring we had an adequate number of scooters in each of these 20 distinct zones on a 24/7 basis and that each scooter was sufficiently charged and safe to use. Our team of 20+ employees did an outstanding job hitting Spin's and the City of Chicago's equity goals, as well as consistently ensuring a 95% availability rate.
When the program ended in December, Spin was the only company that participated in the pilot that had not been cited for failing to hit the Equity Priority Area fleet availability requirements. We greatly enjoyed working with their entire team and forward to being able to continue to work with them if the City decides to resume its scooter program in 2021.
Via (Green Bay)
In the throes of the beginning of the pandemic, Shift Transit launched a completely new business line in Green Bay, Wisconsin, partnering with Via, one of the largest microtransit/paratransit companies in North America. The paratransit service in Green Bay, featuring three different types of vans, provides disabled, infirm, and elderly members of the community with a public transportation option for essential trips, including medical appointments and procedures, and trips to the grocery store.
Shift Transit oversaw a full-scale operational transition from the previous vendor and have overseen Via's paratransit fleet since March 2020, including vehicle inspections, preventative maintenance, repair work, inventory purchasing, and vehicle cleanings. With a mechanic on-site, we are responsible for ensuring all vehicles are road ready for use and maximizing vehicle availability. To date, we have ensured a 99% vehicle availability rating and averaged a 24-hour return rate to service for those vehicles needing repair work.
In late 2020, Via expanded its service offering to include microtransit trips, increasing its overall fleet size and its coverage area.