For our third profile in our Employee Spotlight series, we spoke with Phil LeDonne, General Manager of HUB312. This micromobility hub is located in Chicago's historic Millennium Park and offers a suite of services to local bike commuters and visitors to the Windy City interested in seeing the sites on two-wheels. Phil is a recent addition to the Shift Transit team but no stranger to the mobility industry, having spent close to 20 years working in various cycling and bikeshare roles.
We spoke with him to learn more about what inspired him to work in the transportation space, his vision for HUB312, and his cooking secrets.
Can you tell us a bit about yourself?
I was born and raised in the suburbs of Chicago. As a kid I spent a lot of time playing outside (tablets weren't around back then!) with friends and in my teenage years I got into rollerblading and skateboarding and spent most of my time at the skatepark when I wasn't playing sports. In my later teen years, while away at college, a friend introduced me to mountain biking – and I immediately fell in love. Since then I've tried to spend as much time as possible outside, and have found a variety of things to keep me busy during all the seasons we see in Chicago, though most require some sort of travel. I find myself doing lots of hiking, camping, rock climbing, snowboarding, and of course riding my bike(s) often.
You've had a long, varied career in the micromobility industry. What were some of the things you did prior to joining Shift Transit?
My career in the cycling industry started off at Dicks Sporting Goods, right after the Galyans sale. I figured if I could find a job that got me discounts on all the toys I liked and hobbies I was into, while getting paid, it was a win-win. From there I went to a bike shop in the Chicago suburbs called Spokes where we sold ultra high end bikes (think Tour de France type bicycles) and I spent about 8 years there eventually becoming the service manager. Then this new thing popped up in the U.S. called bikeshare. I was interested in the 'green' aspect of the sharing model, reducing the need for car ownership and I knew it would revolutionize the way people moved throughout cities. I applied for Divvy as a mechanic and after being interviewed by Eddie on my first day – which was intimidating – I was offered the role of Assistant Manager for Bike Fleet. I spent the next 8 years with Divvy, working my way up to the title of Director of Bike Fleet Operations and oversaw the launch of e-bikes in Chicago!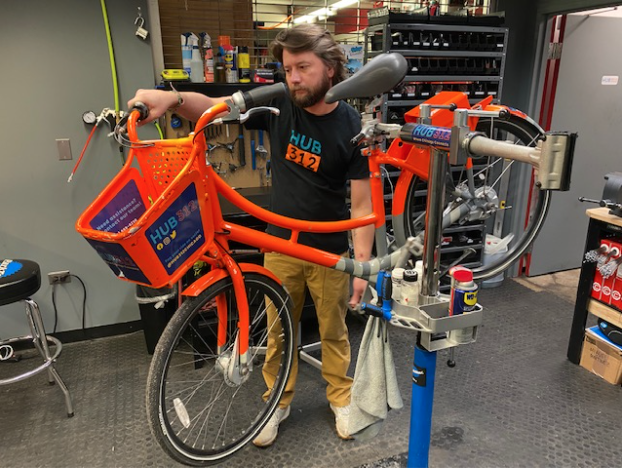 How has your previous experience in the cycling industry prepared you to take the helm of HUB312?
HUB312 is a unique business, with a sort of multi-pronged approach to cater to a variety of customers and clientele. I think my experience in the retail world (Dicks), the mechanical world (Spokes) and my operational leadership (Divvy) provided me with the skills and expertise to handle the different aspects of our business. Since the pandemic we've had to start from scratch, so to speak, and I love the fact that I can have some interaction with both visitors from out of town and our local customers as well. In the end I'm a people person and I love talking to people from all different backgrounds, walks of life and various parts of the world – I'll talk your ear off if you give me the chance! HUB312 is one of the only facilities of its kind in the country and I'm excited to be a part of this journey.
As we continue to build out HUB312 and its suite of services, what are some of the initiatives you look forward most to launching?
I wouldn't say it's any one aspect of the business or service, per se – but rather just taking this business to the next level. I want to put us out there as a top tier repair center in the heart of the Loop, while offering exceptional tours and rentals to locals and visitors alike. Chicago has such a storied history, with incredible architecture, an amazing lakefront trail and endless food options thanks to our rich and diverse culture and I think that HUB312 is poised to showcase all of this to visitors to our city. Combine this with a place where local cyclists can safely store their bikes and receive best-in-class, inexpensive repairs while they head to work and we have the ingredients of a singular type of mobility hub.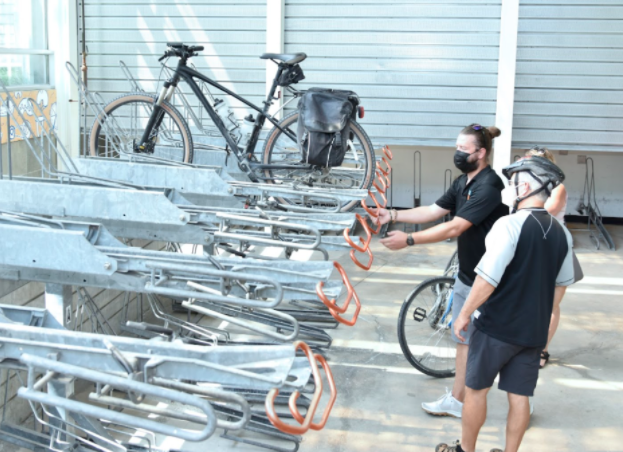 What's your ultimate vision for HUB312?
I envision HUB312 as a sort of community center and meeting point where Chicagoans and visitors who are united by their love of cycling, traveling and the city of Chicago come to meet, swap stories and experiences and enjoy the services that we offer. With the uniqueness of our business model, we can cater to locals with bike storage options, shower facilities, and our bike repair shop. Visitors to Chicago can rent bikes to take advantage of our beautiful city on their own time or schedule a 'Tour de Chicago' with HUB312 tour guides.
We hear you love to cook and have cultivated a vegetable garden in your backyard. Tell us more!
Oh boy, I can go on and on here. For me, the absolute best way to unwind from your day is cooking a nice meal with loved ones over a glass of wine. My favorite weekend days are those spent in the kitchen preparing a dish that takes hours and hours of preparation and cooking. Growing my own fresh vegetables and herbs are the key to really knock a dish out of the park – not to mention another way to spend some time outside in the summer months! We've been known to grow things like parsley, thyme, oregano, sage, rosemary, basil and mint – which all come inside in the winter. In the summer we'll add multiple varieties of peppers (hot and sweet), several types of tomatoes, lettuce, arugula, cucumbers, green beans, onions, garlic, eggplant – just to name a few. Last summer we tried growing fresh mushrooms and they were fantastic! In recent years I've also taken a liking to homemade breads and pasta, as well as canning and have made things like giardiniera, pasta sauce, pickles, hot sauces, pesto, and recently tried my hand at infused olive oil. Ok, my mouth is watering, time to get cooking!