For our fourth profile in our Employee Spotlight series, we checked in with Joannah Burkhardt, General Manager (GM) of the Bike Chattanooga program. Joannah has been an integral part of the program since it began 10+ years ago and is largely responsible for its record-breaking growth and success over the past few years. Today, Bike Chattanooga is seen as a national model for how to operate a viable, thriving bikeshare service in a smaller city.
We spoke with Joannah to learn more about how Bike Chattanooga has evolved over the years, the critical characteristics Chattanooga possesses that make it a great biking city, and our exciting upcoming expansion plans.
Can you tell us a bit about yourself?
I was born in Florida and am the youngest of 5. At age 4, my family moved to Tennessee where I have lived most of my life. I started my journey with Bike Chattanooga over 10 years ago as the Marketing Manager and then moving into the General Manager Position. The whole concept of bikeshare sparked my interest when I first heard about it. Coincidentally, through friends, I met the previous GM that was handling the launch of the program and here I am 10 years later.
You've been a part of Bike Chattanooga since the program launched more than 10 years ago. What are the biggest changes you've experienced and observed since you started?
I'd say the biggest changes I've experienced are how much downtown has grown and how the city has transformed into more of a bicycle friendly town. Ten years ago there was minimal bike infrastructure and now we have protected bike lanes, miles of new cycling infrastructure, and a Riverwalk that spans over 16 miles.
Bike Chattanooga has enjoyed tremendous success over the past few years, consistently breaking major usage and customer acquisition records. What do you attribute this to?
Introducing eBikes to the system was a huge game changer. People absolutely love them and we are seeing up to 4x more trips on ebikes vs pedal bikes. I also have an amazing team that works very hard to keep the system up and running. Without them, our success wouldn't be possible.
Chattanooga is obviously a lot smaller than those cities that we mostly think of when it comes to successful bikeshare programs, including Toronto, New York, and Chicago. What qualities does Chattanooga possess that makes it a model for operating a successful bikeshare program in a smaller city? 
Chattanooga has a thriving arts, music, and dining scene along with a variety of outdoor adventures making it a tourist and vacation hotspot. Chattanooga also hosts multiple sporting competitions throughout the year attracting visitors from all over the world. Bike Chattanooga is an added attraction to the city's bustling tourist scene.    
Bike Chattanooga is set to expand over the next few months. Can you tell us a bit more about the program's expansion plans?
We are so excited to be adding an additional 50 pedal assist ebikes to our fleet and another ebike charging station. We will be replacing the already existing Walnut Street Bridge station with an ebike charging station to assist in the charging of additional ebikes. Once received, we will have a total of 105 pedal assist ebikes, 345 pedal bikes, 38 solar stations and 5 ebike charging stations.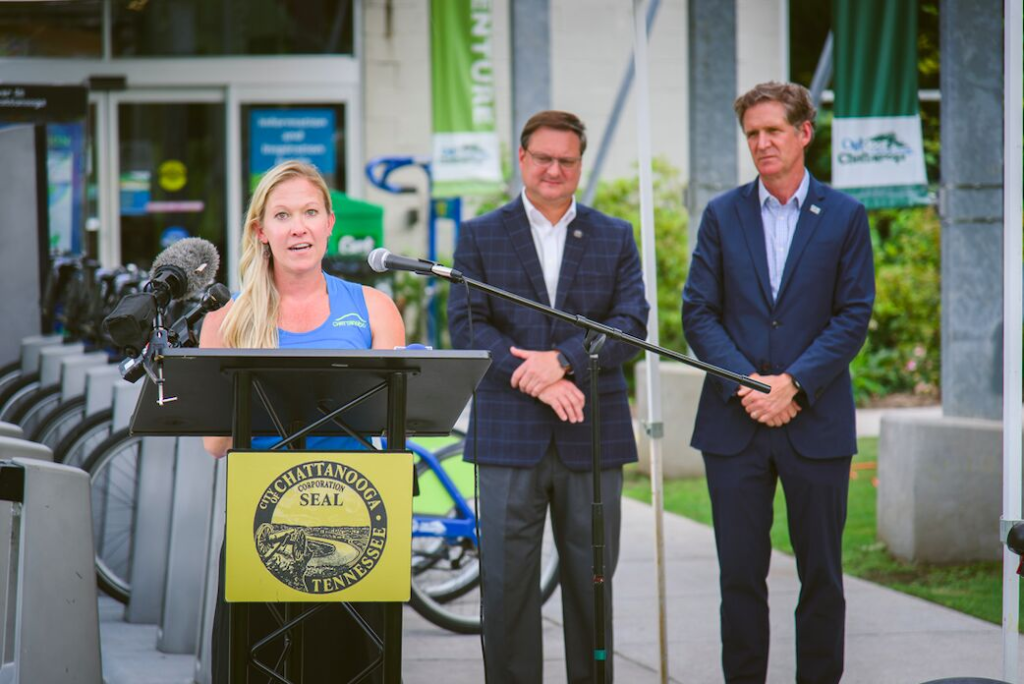 As one of a few women leading the day-to-day operations of a bikeshare program, what advice would you give to other women in the industry seeking to become business unit leaders? 
Don't be afraid to get your hands dirty. Get out there and learn all aspects of your operations. The industry is constantly changing and improving, the more you understand and know about your entire operations, the better you can lead your team to success.