For our second profile in our Employee Spotlight series, we spoke with Chelsea Stauffer, General Manager (GM) of the MoGo Detroit program. Chelsea is responsible for overseeing the day-to-day operations of the 75 station/620 bike system and ensuring its overall success alongside our MoGo partners. She joined Shift Transit in 2018 as Operations Manager and was recently promoted to GM.
We spoke with her to learn more about what inspired her to pursue a career in the mobility industry, what a day-in-the-life of a bike share GM is like, and the best parts of her job.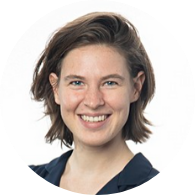 Tell us a little bit about your background.
My path to cycling began when I moved from Ann Arbor- a city consistently ranked for being one of the best places to live in the United States to Detroit – a city better known for its challenges. In spite of its reputation, I found a love for the city and its tenacity through the means of biking. Cycling was my primary mode of transportation and heavily influenced my decision to pursue a degree in Urban Studies at Wayne State University. In my previous role as Office Manager for the Detroit Land Bank, I started the conversation with MoGo seeking to provide employee transportation alternatives to driving. This ultimately led to my transition to Shift Transit managing operations for the MoGo Bike Share system.
What led you to pursue a career in micromobility?
Moving to the Motor City without a car, I became acutely aware of the limited transportation options in the city at the time. As one-quarter of Detroiters do not own cars, I knew the challenges of going to work, grocery shopping, and exploring nightlife without a car were not unique. From a financial, environmental, and public health perspective, biking is one of the top forms of transportation, yet most people won't consider cycling if alternative options are available. I wanted to focus my energy towards improving transportation infrastructure, making micromobility a sensible option people want to choose. 
What's a day in the life like overseeing MoGo operations?
No day is like the next! First I check the system to prioritize work for the day considering our daily and monthly KPIs. I constantly look for ways we can function more efficiently whether that be scheduling additional hours in the bike shop after a heavy ridership weekend or streamline processes for daily e-bike distribution. I really enjoy the diversity of work environments offered by working in transportation.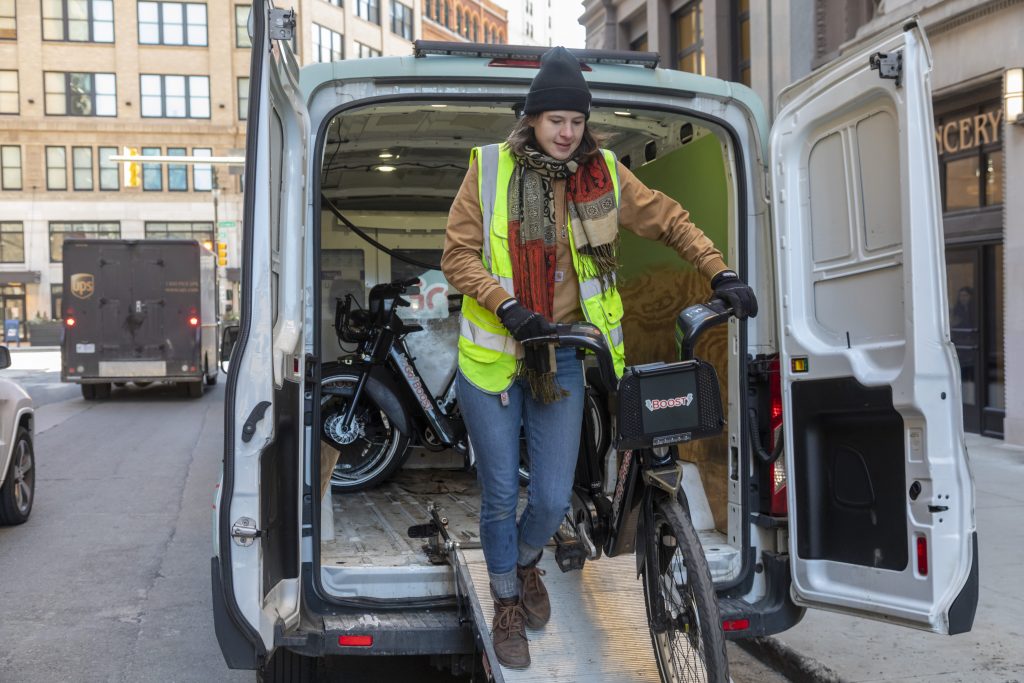 You started as an Operations Manager and were promoted to General Manager several months ago. What has the transition been like for you?
The transition to General Manager was accompanied by several challenges and lessons learned in adaptability. Staffing up for the busy season looked different this year amidst a nationwide labor shortage. We had to expand our recruiting methods and adapt current job roles in order to propel our operation forward. When faced with an unfamiliar problem, I rely heavily on my newly adopted mantra: where there is a will, there is a way. I am lucky to be surrounded by a talented and diverse team here in Detroit whose determination is what makes MoGo go!
The City of Detroit has experienced a renaissance in the last few years. How do you think the MoGo program has contributed (in ways large or small) to this revitalization?
Detroit is a city that has seen 70 years of population decline, but nothing stops Detroit. The cycling culture here is a testament to Detroiters' resilience and self-reliance. On Monday nights, MoGos can be spotted amidst a sea of thousands of cyclists in a group called Slow Roll. At the intersection of community and safety, MoGo enhances the visibility of cyclists as respected road users.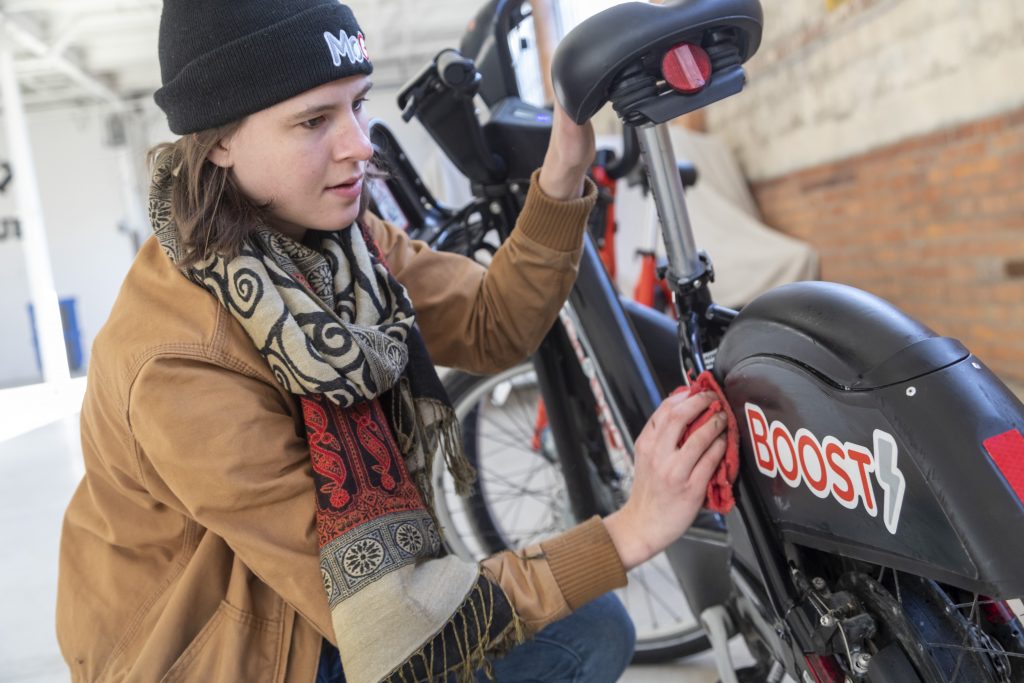 What do you enjoy the most about your job? Proudest accomplishment?
The best part of my job is the role our team plays in changing the use value of public places, offering a reliable and fun way to move throughout the city. Bike share is adaptable, and has the ability to transform space by creating opportunities that did not exist before. With a background in performance art, I am fascinated by how space can be created or changed. Bike share stations are like street performers that can be moved around to create activity or drama with the city as our stage. In 2020 we expanded MoGo's stage to 5 additional cities connecting Northern Detroit to the neighboring suburban communities. Deploying 31 stations in the early days of the pandemic made hiring a difficult challenge. I'm incredibly proud of each member of our team for the heavy lift that was required in order to introduce bike share as a regional transportation service to metro Detroit.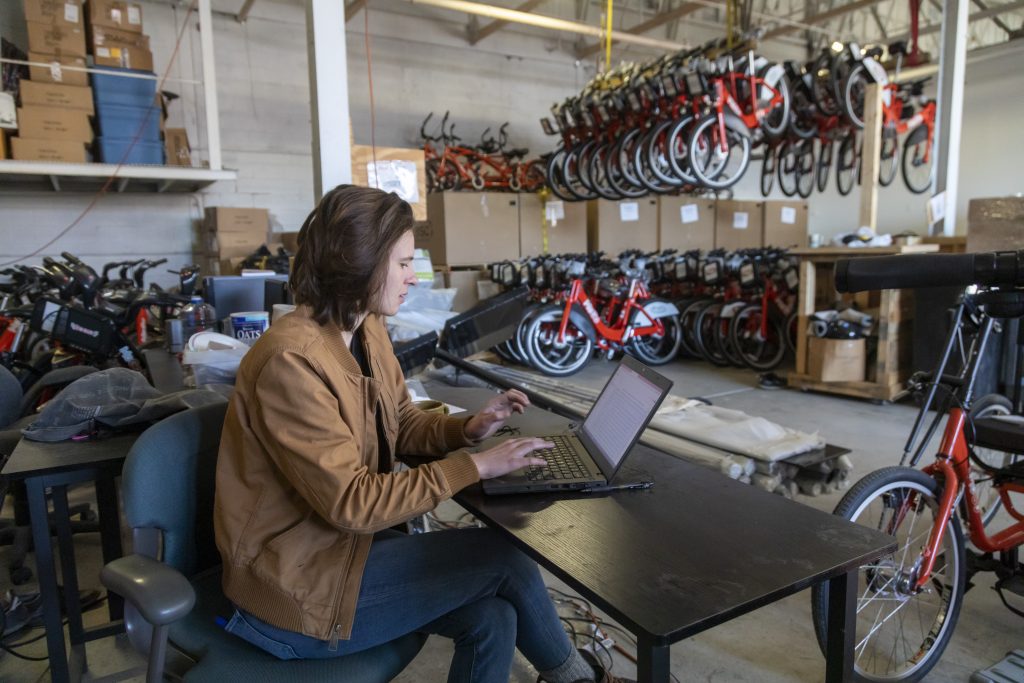 What are some things that you're looking forward to the most in the next 12 months?
This year I look forward to spending more time off the ground! I practice several forms of aerial acrobatics in my free time. This summer I can't wait to return to the Little Seed Farm and Sanctuary for the annual aerial retreat learning new gravity defying moves in the great outdoors. I am drawn to the strength and elegance of aerial –  plus who doesn't want to hang out with folks in the circus?